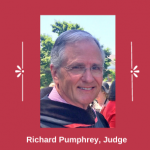 Award Winners Announcement Video.
Named to honor the Center's primary benefactors, whose generous contributions have made the Bower Center possible, this exhibit annually brings in diverse collections of 150+ artworks by 50+ artists including paintings, mixed media, photography, sculpture, and more. Much of the artwork is for sale and awaiting its new home in yours.
Dr. Bower's love for the Bedford community and desire for an inclusive art center inspired this unique judged exhibit, accepting all artist entries and offering a platform for all who wish to participate. This exhibit proves each year to be varied and exciting for all ages.
----------------------------------------------------------------------
Meet This Years Judge:
Richard Pumphrey,
www.pumphreysculpture.com
Judge's Comments:
What stood out for me about this show and what I think will stand out for you is its variety. There is an engaging range of styles, techniques, and media that the artists have chosen to employ. And, there is equally varied objective and not objective subject matter. As your judge of the show, I used a metaphorical yardstick to measure quality: instead of inches or feet, I measure the quality of a work's theme or content, its design, uniqueness, and the artist's execution of the work. We - I as the judge and you as the viewer/artist - want to see and understand how and what the art is communicating using similar standards of excellence to review the work.
The BEST IN SHOW award, "Brotherhood," is a photograph by Barry Koplen. It employs many formal art considerations employing an active and contemporary subject. The brilliant yellow-green on the right is balanced by the yellow-orange of the lower left; the violet hardhat complements the sweatshirt across from it; the hardhat's white and vertical vest stripes along with the door edges in the background create motion when you follow their direction, as does the repetition of black shapes; a circular arrangement of arms, hands, and shoulders also keeps us moving around the composition. The black man's hands contrast against his lighter vest, the white man's hands contrast against the darker violet.
Complementary colors create energy and tension at the left and reinforce the focal point of the working hands. The pictorial space is very limited by the background planes, thrusting the severely cropped figures to the foreground, into "our" space, further charging the scene with drama. This is not just a photo of workers, it's about them: energy, motion, dominance, and unity. The photo begs the question: Are they only unified in their work? Does their mutual work in the context of this decade complement our understanding of the photo?
Generally, if a work's presentation doesn't fully complement the viewing experience, there is a problem! Presentation problems were present in pieces I was considering for recognition but I just couldn't advance them for these types of reasons. Be mindful that corners of canvases or frames can show wear; a sculpture may be chipped; assemblages can have inadequate consideration given to display. You, too, have probably noticed sometimes that a frame is so large or complex that it detracts from the art it surrounds. In the future, be sure to correct these problems prior to declaring a work 'ready to show.'
Of the more than 130 works displayed, only six or so were allowed recognition for their exemplary integration of concept, craftsmanship, and design; there are many, many more very nice images and objects! The exhibition affords all of the works good space and lighting. I hope you can visit Bedford to see, be inspired by, and learn from the Bower Center's show. You don't have to be an expert to recognize quality but you do have to slow down to observe and think about what makes each work special, about why some works are more successful than others. It's not about likes and dislikes, it's about the quality of expression.