Oct. 5 - Nov. 13, 2021
BRMA, Blue Ridge Mosaic Artists, formed in May 2015, originated out of a desire by a few students of mosaics to form a group to share their interests. Mosaic artist, Dotti Stone, who has taught mosaics at Bower Center for the Arts for over 12 years, initiated the formation of the organization, and Janet Chalker, a charter member, helped with the development of the mission statement: We love creating, sharing, and learning about mosaics. We support each other as we explore this once ancient, and now modern, art form.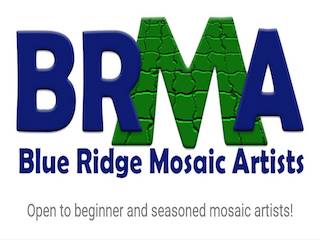 When BRMA meets bi-monthly the members explore possible community mosaic projects; decide upon annual personal projects for members, plan occasional group exhibits; offer periodic programs, and have discussions of different mosaic techniques. A Show 'n' Tell segment concludes each meeting.
Blue Ridge Mosaic Artists has taken part in community public art projects: three floral panels for the entrance side of Bower Center for the Arts, seven panels for Bedford Domestic Violence Services Memorial Garden on Bedford Avenue at N Bridge Street, and sixteen steppingstones for the Centra Bedford Hospice House garden. The organization has exhibited as a group at the MOarts Gallery in Moneta, and in Bedford at the former Electric Company Gallery: Art & More, and at Goose Creek Studio and Framing Gallery.
This exhibit includes 2-D and 3-D mosaics using various materials by members of BRMA. There will also be a few micromosaics and information about the history of micromosaics, a display of a few works in progress that will include different materials and tools used in creating mosaics, and a description of different mosaics classes that are offered at Bower Center.