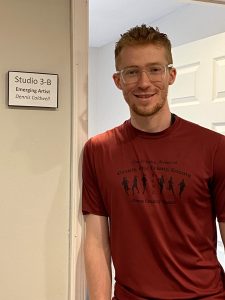 Bower Center Announces 2023 Recipient of Emerging Artist Residency Program
Philanthropist and Art Collector Suzanne "Suzie" Viemeister long inspired many in the Bedford community with her unlimited enthusiasm and commitment to helping and supporting the Arts. As a generous champion for artists of all disciplines, Suzie acquired one of the most extensive and eclectic art collections in the region. Her keen eye for exceptional talent and magnificent masterpieces was only surpassed by her generosity to ensure a thriving arts environment.
Thanks to the extraordinary generosity of the Viemeister family, Suzie's legacy as a major contributor to the arts and culture in the Bedford region continues to grow by extending the Suzie Viemeister Emerging Artist program to new artists in the area. In 2018, the Viemeister family donated a significant portion of Suzie's collection which was auctioned during a special event to form the Suzie Viemeister Emerging Artist Residency Program Fund.
The residency program provides a selected artist with a private rent-free studio, benefitting from many opportunities for professional development and collaboration with peers. The Emerging Artist will learn all aspects of business management, exhibit preparation, hands on experience by collaborating with other studio artists, commercial considerations, marketing, and social media to name a few. The residency concludes with a solo exhibition from November 21, 2023-January 27, 2024.
The Bower Center for the Arts is pleased to introduce Dennis Caldwell as the third recipient of the program. Dennis says that his goal as an artist is to push impressionism and realism as far as he can take it. Specializing in charcoal and oil, he enjoys using those mediums to express whatever it is he's feeling at that moment.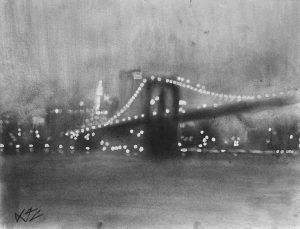 "The potential looseness and messiness of oil and charcoal allow me to create unique scenes. If I were to put a label on my style of art, it would be abstract realism with a little bit of impressionism." Caldwell says. "I want viewers to understand what they're looking at but also understand the essence of each subject. It's important to me to go against the grain of tradition that limits what each piece of art will look like."
After graduating in 2017, Dennis took a break from art until 2019. At that time, he picked up his graphite/charcoal pencils and searched Youtube for tutorials in drawing realistic artwork. 2021 was the year he truly began to take his artwork seriously which led to him moving into different mediums such as watercolor and oil paint. At only 24 years old, Dennis has a strong desire to make a living out of creating artwork through art commissions and showcasing artwork for sale in galleries. His biggest source of inspiration has come from seeing other artwork on Instagram and Reddit.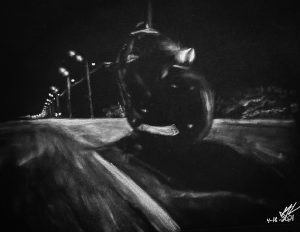 "I find that the best and most difficult subject matter to paint or draw is people. As someone who enjoys watching many genres of movies, I strive to capture and create my own movie scene to put onto a canvas. The goal in my artwork is not to render every little detail from my reference, down to the smallest skin pore, but to say enough for viewers to feel the scene that is on the canvas."
Join us for 2nd Friday at Bower Center for the Arts on June 9th for our 11th Annual National Juried Exhibition reception where we'll be welcoming Dennis to The Bower Center for The Arts. For more information regarding the Suzie Viemeister Emerging Artist program, visit the website at www.bowercenter.org. Working artist studios and exhibitions are free and open to the public Tuesday-Saturday, 11am-3pm.