Our programs foster creative expression, reflect and expand community interest, and encourage citizens to gather, connect, learn new skills, and gain confidence through the process of making and enjoying art.  We offer classes for all ages, exhibits for you to enter & view, live performances for your enjoyment and special community events.  Shop for that piece of art to brighten your space, visit our studio artists, and host your next personal or professional event in one of our beautiful spaces.  It's all here for you!
Want a fun at home art project for the family? Be sure to check out our Just For Fun Blog for many great ideas for you and the family to get creative at home!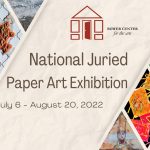 We are proud to announce the award winners from our National Juried Paper Art Exhibition. View the video here.
Read More